For Members and Non-members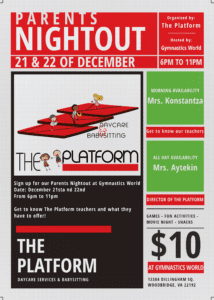 Parents, go out and spend a night in town while your children have a blast at Gymnastics World in an event organized by The Platform Daycare and Babysitting Services.
Play, learn, practice, have fun with The PLatform friendly staff!
Walk-ins are welcome!

6:00 p.m. – 11:00 p.m.
Ages starting at 4 years old (must be potty trained!)
Snacks, and drinks provided!
Games, activities, arts and craft and a lot of fun for 4 hours.
CALL TO SIGN UP OVER THE PHONE
703-763-3420
CLICK BELOW TO REGISTER ONLINE (all students, preferred to be pre-registered to minimize sign in time).